WP6B.11 leader : Hugues Thiesen
Project Team : Shruti Seshadri - Frederic Daligault - Wiktor Stopa - Emilien Coulot - Xavier Bonnin
Functionnal specification on .edms
Project on .edms
Project on dfs
Project on Indico
Introduction
Circuit disconnector boxes are introduced for HL-LHC circuits for the compliance with the electrical safety norms
imposed by CERN (Electrical Safety Code C1). These circuit disconnector boxes will allow the disconnection of the
warm to cold transition in the HL-LHC and will allow to connect the circuits to earth for proper intervention. A
programmable logic controller will allow to monitor the state of the circuit disconnector boxes. In addition, water
cooled and isolated heat sinks are added to this package to limit the heat penetration from the circuit
disconnector systems copper bus bars into the current leads.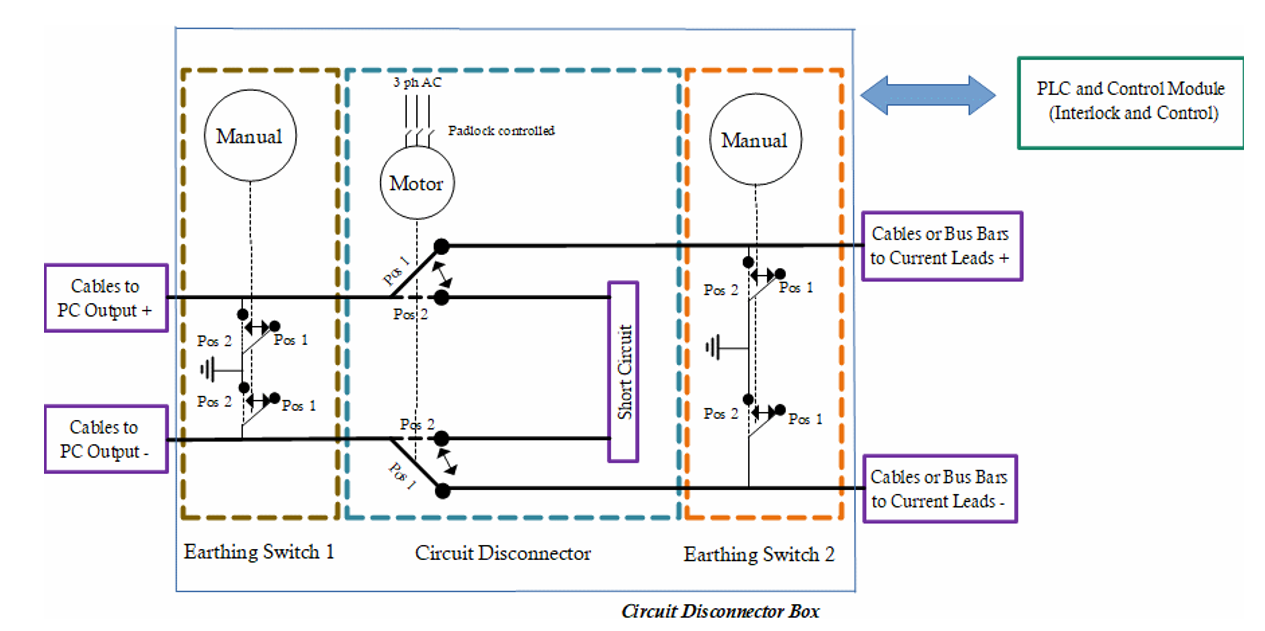 Project
Project and quality
Procurement
Table 2: Procurement documents.

| | |
| --- | --- |
| Load switches: 600A (DO-32758) | DR 8417973, DAI 8600271, EDMS 2431299 |
| Load switches: 2kA (DO-32710) | DR 8417930, DAI 8595301, EDMS 2418645 |
| Load switches: 18kA (DO-32780) | DR 8417968, DAI 8595195, EDMS 2431301 |
| Earthing switches (DO-32757) | DR 8421387, DAI 8729508, EDMS 2426950 |
| Water cooling plates for Cluster F | DAI 8923032 |
| Water cooling plates for IT String (DO-32993) | DR 9051810, DAI 9101956, EDMS 2606915 |
| Mfg of the control racks (IT-String) (DO-33471) | TODO |
Functional and design documents
Table 3: Functional and design documents.

| | |
| --- | --- |
| CDB Functional specification | EDMS 2402920 |
| CDB control system technical specification | EDMS 2739242 |
Safety related documents
Table 4: Safety documents.

| | |
| --- | --- |
| Insulation coordination study of the CDB system | EDMS 2770216 |
| Safety pre-audit presentation | EDMS 2734606 |
Technical documents
Design
Tests and validation