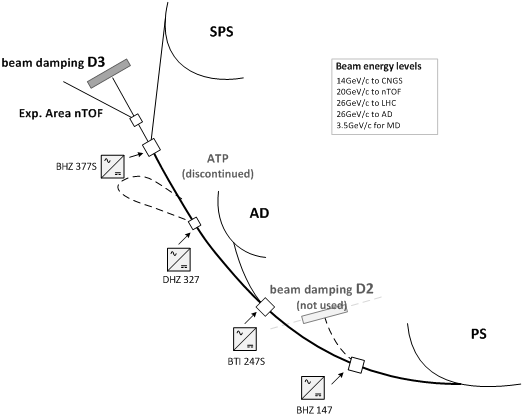 TT2 is one of the first Transfer Lines that were built at Cern with the initial aim to transfer particle beams to the then called "West-hall" experimental zone and to the Intersecting Storage Rings (ISR).
The TT2 Transfer line has a long history of changes since its commissioning in 1970. The addition of new users and the construction of LEP as well as the AD and nToF facilities naturally demanded that the TT2 power converters change mode of operation from continuous to pulsed current in order to allow different beam particle energy to be extracted on a cycle-by-cycle basis.
The Beam Transfer Line TT2 is special in that it delivers particles from the Proton Synchrotron to the following Accelerator (SPS) as well as to a number of Physics experiments directly (Neutrons time of Fly -NToF, Antiproton decelerator – AD). Consequently, it is required to handle beams of different energies.
Following is a list of the key events that changed the TT2 over its 40 years of operation.
1965 Construction of the TT2 decided as part of a large PS expansion plan
1970 extraction line operational to supply protons to the West Hall
1970 (late) test beams to the Intersecting Storage Rings (ISR) beam lines
1971 proton beams to the Intersecting Storage Rings (ISR)
1975 SPS beam line becomes operational and beam to West Hall discontinued
1976 a study has been commissioned to convert TT2 to pulsed operation
1978 the beam dump target (D2) has been added
1987 positron injection to SPS to supply the electron-positron storage ring LEP
2000 first beam to the AD complex through beam line 9000
2000 first beam to NToF through beam line TT2A
2008 first beam to LHC